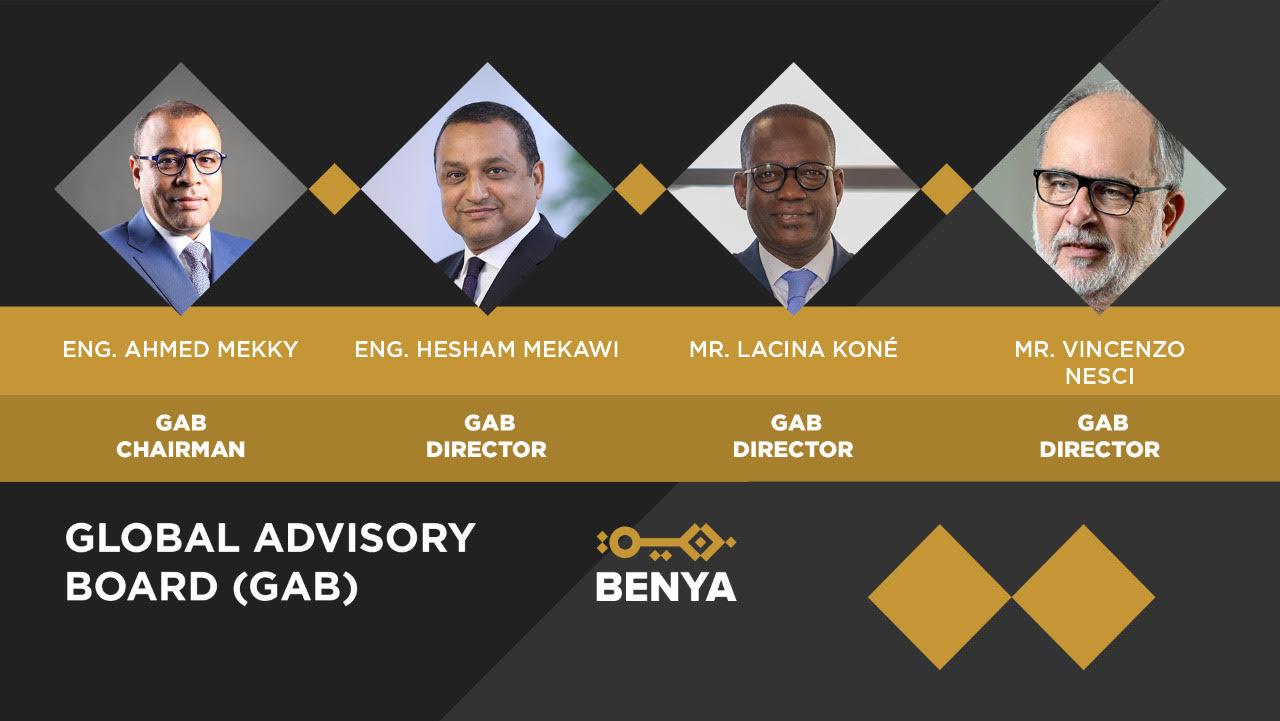 Benya is proud to appoint three board members to the GAB, effective November 2020. The appointments include Mr. Lacina Koné, Director General of Smart Africa, Mr. Hesham Mekawi, former BP Regional President North Africa, and Mr. Vincenzo Nesci, former President of Alcatel AME, and former Executive Chairman of DJEZZY in Algeria.
Ahmed Mekky, Chairman and CEO of Benya commented: "The formation of Benya's Global Advisory Board is an important step in supporting the company's vision, overseeing governance framework, and maintaining sustainable growth. The GAB will contribute their insights and high-caliber valuable advice to further strengthen Benya's position as the digital transformation partner of choice in Egypt, Africa and the middle east."
He added: "We are honored to welcome Mr. Kone, Mr. Mekawi, and Mr. Nesci as members of our Global Advisory Board. We are confident they will bring insight, intellect, passion, and vision to the board and provide valuable perspective."
Lacina Koné is a prominent information and communications technology (ICT) mastermind, who developed an extensive track record of outstanding successes and significant accomplishments. Koné is now the Director-General of Smart Africa, bringing over two and a half decades of professional hands-on expertise in telecommunications, satellite, and intelligent transport systems into action. Koné's career includes many other senior technical and managerial positions with globally prestigious telecommunication firms such as Booz Allen Hamilton and Intelsat.
Hesham Mekawi is a high-profile senior corporate executive with over 30 years of demonstrated experience in the global oil and gas industry. The former Regional President of BP North Africa has fulfilled multiple management roles in different parts of the world across the public and private sectors. As the president of BP North Africa, Mekawi led the supermajor's operations in four countries. During this successful journey, he managed to transform growth opportunities into tangible revenue streams, draw massive BP investments to Egypt, and run a successful merger between BP Egypt and BP North Africa.
Vincenzo Nesci is a well-recognized telecom expert who made an extensive track record across the information and communications technology (ICT) field and a long professional history of remarkable successes with manufacturers and mobile operators. During his professional history, he sealed several multi-billion-USD deals and gave a big contribution to the development of mobile technology in the AME region. Nesci received high recognitions and awards, including Chevalier de la Légion d'Honneur of France and Officer of the Order of Leopold II of Belgium.
###
About Benya:
"Benya is the leading digital solutions and ICT infrastructure provider in Egypt and the MEA Region. Through its subsidiaries that operate across various ICT verticals, Benya offers a wealth of products, services and digital solutions including telecommunication services, cloud, and security solutions, hyperscale data centers, manufacturing technology-based solutions and systems integration. With its existing range of service offerings, coupled with its solid expansion plans to provide a comprehensive ICT value chain, Benya has established a sound reputation as a key enabler of digital transformation. Benya is positioned and recognized as the partner of choice for both public and private sector clients and remains committed to digitally transforming nations and businesses, eventually enhancing the lives of the communities we serve. Benya is dedicated to building a digitally united and smart MEA Region."
To Read in French:
Benya annonce la mise en place de son conseil consultatif mondial
Egypte, Caire – xx 2020: Benya, leader en infrastructure de technologies d'information et de communication (TIC) et transformation numérique en Egypte, l'Afrique et le Moyen Orient, a annoncé la mise en place de son conseil consultatif mondial. Cette annonce marque un tournant pour l'entreprise alors que Benya œuvre à renforcer sa place en tant que partenaire privilégié afin d'offrir des solutions TIC de haute qualité. Le conseil établi renforcera la vision de l'entreprise en conseillant la direction de Benya.
Benya nommera trois membres du conseil qui prendront en charge leurs rôles à partir de xx, à savoir M. Lacina Koné, directeur général de Smart Africa ; M. Hesham Mekawi, ancien président régional d'Afrique du Nord chez BP ; et M. Vincenzo Nesci, ancien président d'Alcatel Afrique et Moyen-Orient, et ancien président du conseil d'administration de Djezzy en Algérie.
Ahmed Mekky, président du conseil d'administration et PDG de Benya a commenté : « La mise en place du conseil consultatif mondial de Benya est une étape importante qui soutient la vision de l'entreprise et permet de surveiller le cadre de gouvernance et maintenir une croissance durable. Le conseil apportera ses connaissances et ses précieux conseils pour renforcer la position de Benya en tant que partenaire de choix pour la transformation numérique en Égypte, en Afrique et au Moyen-Orient. »
Et d'ajouter : « Nous sommes honorés de nommer M. Koné, M. Mekawi et M. Nesci comme membres de notre conseil consultatif mondial. Nous sommes certains qu'ils apporteront au conseil un éclairage, un intellect, une passion et une vision, et qu'ils apporteront un point de vue précieux. »
Lacina Koné est un brillant spécialiste de technologies d'information et de communication (TIC), qui a développé un vaste dossier de réussites et de réalisations importantes. Koné est aujourd'hui directeur général de Smart Africa, mettant en œuvre plus de deux décennies et demie d'expertise professionnelle dans le domaine des télécommunications, des satellites et des systèmes de transport intelligents. Koné a assumé de nombreux autres postes techniques et de gestion de haut niveau au sein d'entreprises de télécommunications prestigieuses au niveau mondial, telles que Booz Allen Hamilton et Intelsat.
Hesham Mekawi est un cadre supérieur exécutif de haut niveau, avec plus de 30 ans d'expérience avérée dans l'industrie mondiale du pétrole et du gaz. L'ancien président régional de BP Afrique du Nord a occupé de nombreux postes de direction dans différentes parties du monde, dans les secteurs public et privé. En tant que président de BP Afrique du Nord, Mekawi a dirigé les opérations du supermajor dans quatre pays. Au cours de ce parcours fructueux, il a réussi à transformer les opportunités de croissance en flux de revenus tangibles, à attirer des investissements massifs de BP en Égypte et à mener à bien la fusion entre BP Égypte et BP Afrique du Nord.
Vincenzo Nesci est un expert en télécommunications reconnu qui a fait ses preuves dans le domaine des technologies d'information et de communication (TIC) et qui dispose d'un long parcours professionnel jalonné de réalisations remarquables auprès des fabricants et des opérateurs de téléphonie mobile. Au cours de son parcours professionnel, il a conclu plusieurs contrats pesant plusieurs milliards de dollars américains et a largement contribué au développement de la technologie mobile dans la région d'Afrique et du Moyen-Orient. Nesci a reçu de hautes distinctions et récompenses, notamment le titre de Chevalier de la Légion d'Honneur de France et d'Officier de l'Ordre de Léopold II de Belgique.
###
A propos de Benya :
« Benya est le principal fournisseur de solutions numériques et d'infrastructures TIC en Égypte et dans la région du Moyen-Orient et Afrique. Par l'intermédiaire de ses filiales qui opèrent dans divers secteurs verticaux des TIC, Benya offre une multitude de produits, de services et de solutions numériques, notamment des services de télécommunications, des solutions de sécurité et de cloud, des centres de données à grande échelle, des solutions basées sur la technologie de fabrication et l'intégration de systèmes. Avec sa gamme existante de services, associée à ses solides plans d'expansion visant à fournir une chaîne de valeur TIC exhaustive, Benya s'est forgé une solide réputation de catalyseur principal de la transformation numérique. Benya est positionné et reconnu comme le partenaire de choix pour les clients des secteurs public et privé et reste engagé à transformer numériquement les nations et les entreprises, pour finalement améliorer la vie des communautés que nous servons. Benya s'engage à construire une région numériquement unie et intelligente.»