ibre optics and 5G, hand in hand, are the future, some industry experts said at the Fiber Connect MENA conference in Dubai on Wednesday.
"The future is 5G, and there is no 5G without fibre," said Gavin Faulds, who sits on the board of directors at the Fiber Connect Council.
The fibre optic market is expected to hit $5.7 billion by 2025. Advocates tout that it is faster, more reliable over longer distances, and can increase rural connectivity. An even bigger market, the 5G infrastructure market may be worth $83 billion by 2030 – though estimates vary widely.
"We're seeing operators around the world going for more fibre, and we see countries with existing infrastructure investing more in fibre infrastructure. For example, in the US, we're seeing AT&T invest in fibre alongside 5G," Kenechi Okeleke from GSMA said while speaking on a panel at the conference. "What we're seeing across the world is that operators who previously only focused on mobile are beginning to find ways to get access to fibre, whether it's through organic investment in infrastructure, mergers and acquisitions with fibre companies, or through partnerships."
He added that 5G rollout is happening faster in countries where existing infrastructure allows for rapid 5G rollout.
"If we see countries that have had a quick 5G rollout, the one thing in common is existing infrastructure that lets them roll out 5G very quickly."
5G proponents say the technology has multiple potential uses, inside and outside the home.
"Imagine deploying 5G to control construction equipment or even driverless automobiles. These are use cases that the industry is looking at that can be implemented for sectors ranging from ports, transport, construction," said Fatma Al Daghar director fixed access planning at du. "These entities are looking for a competitive advantage, and we can deliver that by delivering the infrastructure."
5G and fibre development have accelerated rapidly since the onset of the Covid-19 pandemic. As people began to work online, go to school and the doctor's office online, and complete more tasks online during lockdowns, technology began to play a bigger role than ever before in everyday life.
"All the activities that now happen from home need proper infrastructure," Ahmed Mekky, president of the Fiber Connect Council said in his opening address. "The need to develop ICT networks and infrastructure is high, and this region is still underdeveloped."
Broadly speaking, the region has a long way to go – but it is also a region of contradiction. The UAE is one of the global leaders in 5G adoption and rollout. Expo 2020 Dubai was the first major 5G commercial customer in the Middle East, Africa and South Asia region.
Speed test company Ookla recently named Expo 2020 Dubai the world's fastest event; it recorded a median download speed of 983.19 Mbps across its six-months duration, with 5G download speeds peaking in excess of 2 Gbps.
Outside the confines of Expo, the UAE is still spearheading 5G and fibre development.
"Fibre connectivity opens doors to bringing futuristic tech to everyone," Khalid Murshed, the CTIO at Etisalat said.
That includes opening doors for greater connectivity for those outside major urban hubs.
"Getting fibre optic in rural areas can make a positive impact on people who can save time by making life more convenient," Mekky said.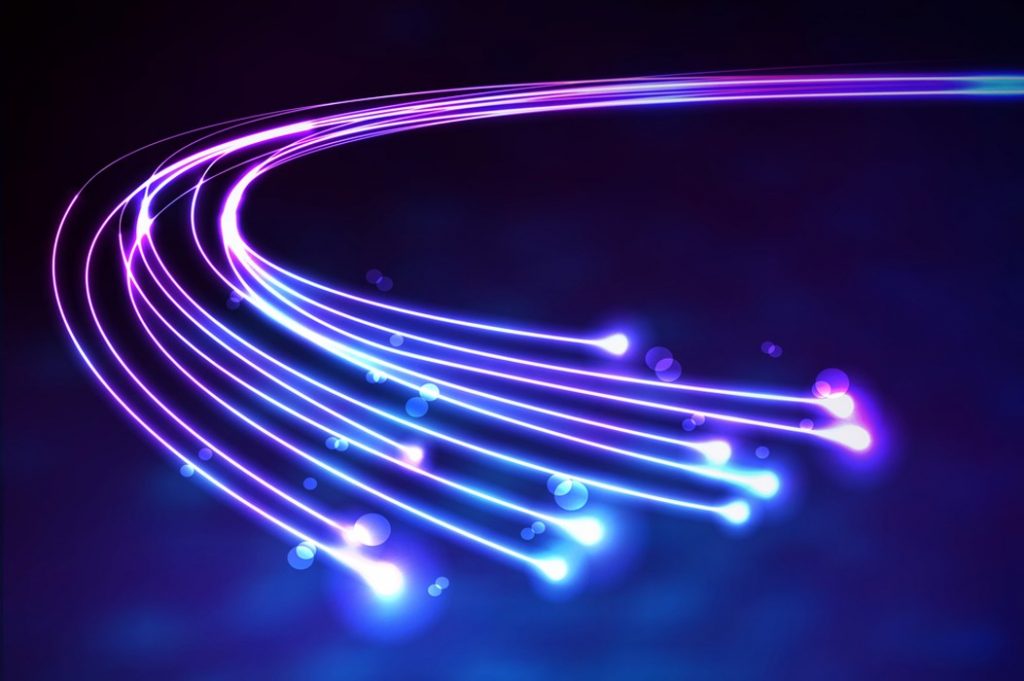 But even cities will increasingly rely on 5G and fibre to power a host of "smart" things – from homes and campuses to manufacturing, energy and transportation.
The possibilities seem nearly endless, but to address the opportunities, there is work to be done.
"Fibre optic for ICT infrastructure is important and it plays a role in our lives every day now," Mekky said. "To address these opportunities, we can't move slow, and we have to do it right the first time."
The space has seen rapid change that has kept pace with other global shifts, including seeing more women in the workforce and moving towards a more environmentally friendly way of working.
Women in the UAE fibre industry said the country's leadership has ensured they have been afforded the same opportunities as their male counterparts.
On the environmental front, panelists said that fibre consumes less energy compared to other materials. Further, advanced optical cable systems contribute to long-term sustainability commitments by reducing CO2 foot-print of telecom infrastructure.
"The fibre-optic network requires five times less energy for the data stream than a copper network and does not generate any electromagnetic radiation," one panelist said.