The return of events post-Covid
After a long hiatus, concerts, festivals, sports games, and other major events are finally returning to their pre-pandemic glory. The recovery of the event ecosystem is moving faster than expected.
The event industry experienced a real boom during the summer of 2022. Numerous festivals were held across the world, and everything suggests that the number of events, and their respective attendance, may even exceed pre-pandemic levels in the years to come.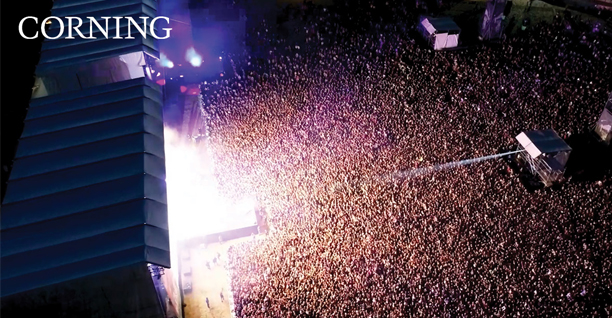 Connected events are becoming a necessity in a digitalized world. To facilitate and enhance the customer experience, new features are emerging built around connectivity, for example, cloud-hosted telephone reception, cashless payments, improved mobile coverage, Wi-Fi as well as FTTH (Fiber-to-the-Home) connectivity.
When art and innovation meet
Established in 1998, the music festival La Nuit de l'Erdre is located in the town of Nort-sur-Erdre in France. Today, it takes place over four consecutive evenings and welcomes around 20,000 people each night in addition to its partners, volunteers, and technicians. The festival favors an inclusive audience, with children as well as adults and this year decided to digitize all of its processes and services, including cashless payments via wristbands and live video in VIP boxes and dressing rooms to benefit more festivalgoers
Corning as a connected experience enabler
Thanks to the use of fiber optics throughout the event site, La Nuit de l'Erdre was able to offer a captivating experience to festivalgoers.
"Everything is based on optical fiber with its connectivity and signal distribution. Corning is an essential partner since it set up the fiber optic network across the entire site," said Marc Jolys, president of La Nuit de l'Erdre association.
A local fiber optic network for a totally immersive experience
As the venue hosting La Nuit de l'Erdre covers five hectares, the festival chose to use fiber optics to cover greater distances. Traditional copper networks are constrained to distances that are today too short to cover the entire magnitude of a festival, a concert, or a major sporting event. Therefore, optical fiber becomes essential.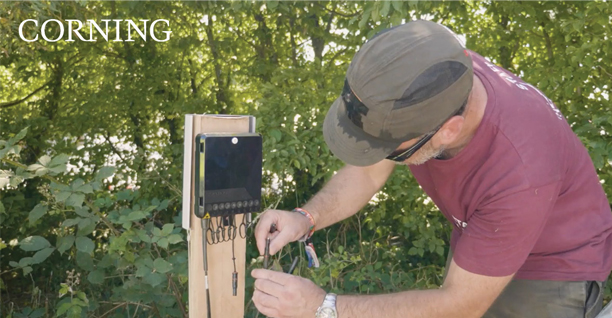 Corning's Evolv® Solution allows complete lines of fiber to be drawn with no additional action needed other than the connections. This technology allows a reliable and high-quality network that remains waterproof in any weather. This is obviously a crucial element when running an outdoor festival.
"Corning's Evolv Solution with Pushlok™ connectivity completely meets our needs. It is very quick to set up and brings considerable time savings to the technical teams in charge of organizing and running the festival," adds Pascal Briand, technology manager for La Nuit de l'Erdre association.
"This new technology brings a real quality and reliability that guarantees a successful festival without obstacles or technical problems. We introduced a new experience this year with the VIP village, where we used fiber to support a giant screen for fans to view the concert broadcast from the boxes," continues Thomas Canale, technology manager for La Nuit de l'Erdre association.
Evolv is a new generation of drop cable and terminals. The solution allows for a simple, scalable, much faster, and lower cost fiber network deployment
What else made La Nuit de l'Erdre a 100% connected event ?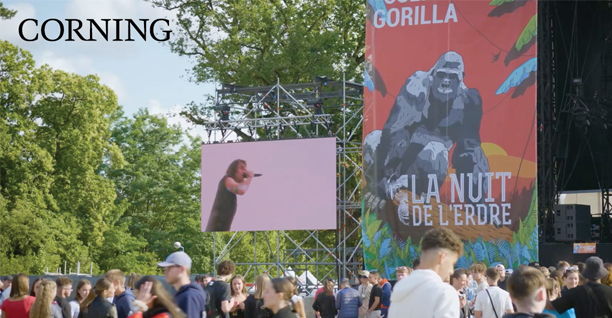 Low latency video
A fiber optic line reaches each screen to retransmit the signal from the stage with very low latency. This is made possible because the optical loop processes the image directly within it, making the moment between the action is filmed and the image is broadcast less than 100 milliseconds in total. Festivalgoers can even enjoy the concert from the dressing rooms in real time, for an even more immersive experience.
The cashless method
Everyone attending La Nuit de l'Erdre festival received a wristband to make all their payments through a cashless method. To enable this process, a high-speed internet connection is essential.
The cashless solution is a completely decentralized system. It is a convenient and above all secure method that allows for quick and easy payment, facilitating and enhancing the festival experience.
100% connected events: a long-term objective
As the wider COVID-inspired tech boom continues through 2022 and beyond, event tech will continue to thrive. According to Bizzabo's 2020 event marketing report, 90% of event marketers believe that technology has a major positive impact on the success of their events. For example, some festivals add augmented reality (AR) and virtual reality (VR) technologies to include a new dimension to artists' performances. For this, low latency, and therefore fiber optics, is necessary to bring the virtual world to life.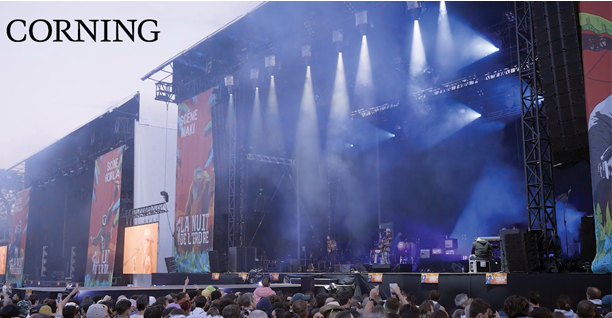 Future events will provide a more connected and immersive experience for all participants. The use of an optical loop will be particularly useful for large-scale events such as the 2024 Olympic Games or the Rugby World Cup, and many others.
But there are several challenges to be met to connect large events in optimal conditions.
For an event such as the 2024 Olympic Games, there will be 10 million spectators on site, and more than half the world watching on a delayed basis. It will therefore be necessary to connect new sites and do so in a sustainable way, by leaving the installations on site or by reusing what will have been brought elsewhere from other competition sites and training centers. Optical loops are ideal for this situation as they can be left on site and redeployed in the future for other events such as sports competitions or festivals.
Many events have already been made possible by Corning technologies. One of Corning's most recent projects includes the installation of Everon® mmWave technology in the SoFi Stadium suites for the 2022 Superbowl.
Common to these various projects and Corning solutions is the desire to create a network capable of supporting increasingly digital and immersive experiences, while meeting consumer and fan expectations at any major event.
Corning's portfolio and track record allow the company to support temporary events of any kind. Thanks to fully reusable optical loops, with solutions for FTTx (Fiber-to-the-x: bringing optical fiber closer to the user) and enterprise network applications, the company can offer tailor-made solutions for mass events both in and outdoor.